Trip Details, Dates, Prices, etc.
Menu
14-Days Expedition for Orchids and Other Endemic Plants Guizhou and Guangxi
Date:
Apr. & May., 2021, 2022
Trip Focus:
Classic Flower Tours
Located in the southwest of China with a mild climate and abundant rainfall, Guizhou and Guanxi enjoy a humid monsoon climate of central/subtropical tropics with rich biodiversity. This area is also part of the Yunnan-Guizhou-Guangxi karst region, which is one of the three endemic and rare plant centers
(

the other two are Hengduan Mountains and East Sichuan- West Hubei

)

of flora in China, and is also a key and hot spot area for biodiversity conservation in the world. Plant resources in this area are extremely rich with many endemic, rare and endangered plants under state protection. Sharing the same habitats with those endemic plants in those karst mountains is a great variety of ethnic minorities that boast of colorful costumes, unique architectures, and different languages. During our botanical exploration through this amazing region, we will take you into the depth of forests around karst peaks and valleys to look for those rare orchids and other flowers. We will also be rewarded by the rich ethnic culture and magnificent natural scenery. Traveling through these beautiful areas highly recommended by the top travel books like Lonely Planet, you will find your journey always filled with excitement from discovering beautiful endemic plants, encountering villagers in their colorful costume, seeing the breathtaking views and visiting authentic local villages.
Dates & Prices
| Dates | Booking Status | Price | Single Supplement | Group Size | Guide |
| --- | --- | --- | --- | --- | --- |
| Apr.20 to May.3, 2021 | Open to Booking | 3,400USD/pax | 480USD/pax | 12 | Local Guide |
| Apr.20 to May.3, 2022 | Open to Booking | 3,400USD/pax | 480USD/pax | 12 | Local Guide |
The cost includes the following:
1. Transportation throughout the trip.
2. Meals in local popular restaurants.
3. All the entrance tickets for places listed in the itinerary including cable cars and shuttle buses.
4. Hotel stays from the first day to the last day of the trip, nice 3-star hotels in big cities and local best in local places.
5.Bottled water, and snacks throughout the trip.
6. Service charges of this trip include the fees of a professional English-speaking plant guide.
7. China domestic travel insurance.
The cost does not include the following:
1. Any expense of personal nature such as laundry.
2. During this trip, extra charges due to the change of itinerary from the client-side or other factors are beyond the control of WildFloraTour.
3. Flight tickets to the place where our trip starts and from the place where our trip ends.
4. Expenses for visa application.
5. Gratuities to the guide and driver.
Itinerary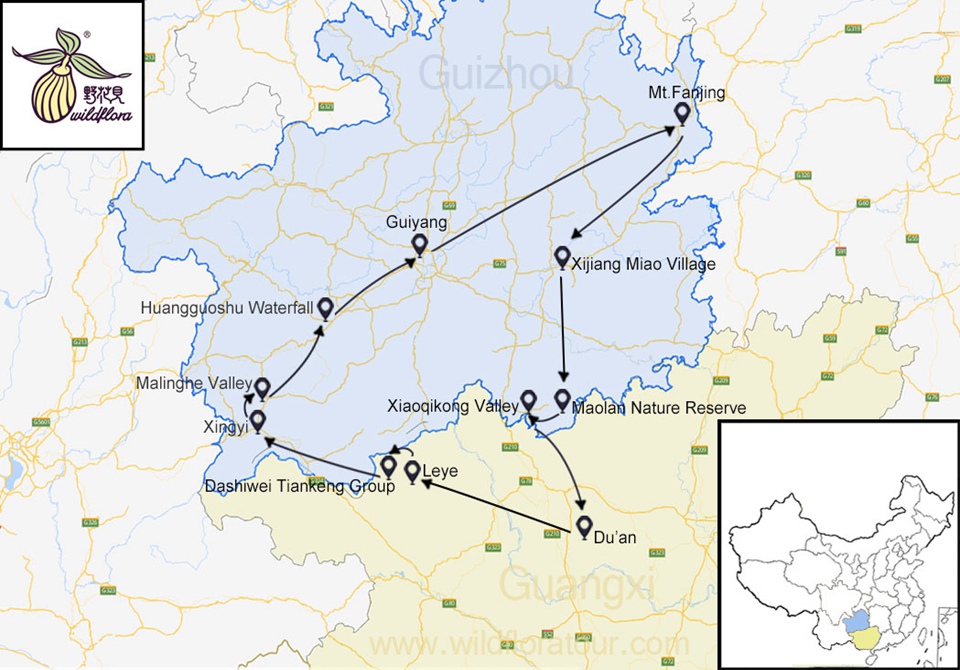 D1 Arrives at Guiyang. Meals: D
Arrives at Guiyang. Meet your guide at the airport and transfer to your hotel. Welcome dinner in the evening.
Overnight: James Joyce Coffetel (Guiyang Xingdao) or similar
D2 Guiyang City Tour. Meals: BLD
Do a city tour in Guiyang, visit Guiyang Qianlingshan Park in the morning, and Qingyan Ancient Town in the afternoon. Roam in Erqi food road in the evening.
Overnight: James Joyce Coffetel (Guiyang Xingdao) or similar

D3 Guiyang to Fanjingshan Mountain. Meals: BLD
Drive 4h to Fanjingshan Mountain, explore valleys around our hotel in the afternoon.
Overnight: Xingyi Yunshe Holiday Hotel or similar
D4 Explore the Fanjingshan Mountain. Meals: BLD
We will take a cable car to the top of Fanjing Mountain, look for plants around the top area, then walk down to explore the lower area for more plants.
Overnight: Xingyi Yunshe Holiday Hotel or similar
D5 Fanjing Mountain to Xijiang Miao Village. Meals: BLD
Drive 3.5h to Xijiang Miao village and visit Miao village in the afternoon.
Overnight: Floral Hotel Taixu or similar
D6 Xijiang Miao village to Libo Maolan nature reserve. Meals: BLD
Drive 2.5h to Libo Maolan nature reserve, look for orchids, and other plants.
Overnight: Sanheng Hotel or similar
D7 Visit Xiaoqikong valley. Meals: BLD
Visit Xiaoqikong valley, explore plants and see the stunning scenery of blue water, valley, subtropical forests, karst peaks.
Overnight: Sanheng Hotel or similar
D8 Xiaoqikong valley to Du'an County. Meals: BLD
Drive 4h to Du'an County, visit beautiful rivers and karst peaks.
Overnight: Vienna International Hotel (Guangxi Du'an) or similar
D9 Du'an County to Leye County. Meals: BLD
Drive 4h to Leye County, after lunch, we explore karst valleys around Leye County.
Overnight: Yeste Hotel (Leye) or similar
D10 Explore Dashiwei Tiankeng Group. Meals: BLD
We will spend the whole day exploring Dashiwei Tiankeng Group, look for plants.
Overnight: Yeste Hotel (Leye) or similar
D11Leye to Xingyi. Meals: BLD
Drive 4h from Leye to Xingyi, after lunch we explore karst peaks for plants around Xingyi.
Overnight: Taste Resort or similar
D12 Malinghe Valley to Huangguoshu waterfall. Meals: BLD
Explore Malinghe Valley near Xingyi in the morning and drive 2.5h to Huangguoshu waterfall in the afternoon.
Overnight: Juyuan Hotel or similar
D13 Huangguoshu waterfall to Guiyang. Meals: BLD
Visit the Huangguoshu waterfall. Drive 2h back to Guiyang in the afternoon.
Overnight: James Joyce Coffetel (Guiyang Xingdao) or similar

D14 Fly back home from Guiyang.

Introduction to Trip Destinations:
Mt. Fanjing
Fanjingshan is located in Tongren, Guizhou Province in southwest China. It is the highest peak of the Wuling Mountains. The elevation of its terrain ranges from 480 to 2,570 meters above sea level. The Fanjingshan National Nature Reserve was established in 1978 and designated a UNESCO Biosphere Reserve in 1986. The reserve covers a total area of 567 km² and is a conservation area for primitive vegetation of the mid-sub-tropic alpine region of western China. The mountain was designated a World Heritage Site in July 2018. Fanjingshan's relative isolation has ensured a high degree of biodiversity. Endemic species such as the rare Guizhou golden monkey (

Rhinopithecus brelichi

),

Dendrobium fanjingshanense

,

Corybas fanjingshanensis

, and the Fanjingshan fir (

Abies fanjingshanensis

) occur only in a small region centering on Fanjingshan. Several endangered species, including the Chinese giant salamander, forest musk deer, and Reeve's pheasant are also found in Fanjingshan. It is also home to the largest and most contiguous subtropical primeval beech forest. Besides, Mt.Fanjing is also a Buddhism sacred mountain.
Maolan
Maolan Biosphere Reserve is situated in the Guizhou Province in south-east China. Located in the subtropical monsoon humid climate zone, the reserve is a typical karst peak cluster funnel and peak cluster depression landform. The reserve is 430-1078 meters above sea level and covers an area of 21,285 hectares. The main objects of protection are the karst forest and rare animals and plants. The region is famous for its virgin forest that is well preserved on the karst landscape. The main habitats include subtropical evergreen broadleaf forest, subtropical evergreen, and deciduous broadleaf mixed forest. There are 1203 species of vascular plants found in the reserve, including 25 species of national protected plants, such as Taxus chinensis, Woonyoungia septentrionalis, Handeliodendron bodinieri, Paphiopedilum micranthum, Paphiopedilum barbigerum, and Paphiopedilum emersonii.
Xijiang Miao village
Xijiang is a village in Eastern Guizhou, known as the largest Miao village in China. It bears the title 'thousand household village' and has a little over a thousand residential dwellings, which amounts to a population of over 5000, of which 99.5% are Miao. It is often quoted by researchers as a living fossil for the study of the Miao people's history and traditional culture. It is host to many festivals, particularly around the Chinese new year, where Miao from surrounding villages gathers. The dark wooden houses are laid out compactly over two adjacent spurs, at the base of which a river flows. From the entrance gate on the opposing hill, there is a spectacular view of the entire village. The village is situated within a deep valley in the protected LeiGongshan national park, and the surrounding countryside makes for hikes ranging from short to up to a few hours, into the surrounding rice fields and forested hills.
Xingyi & Malinghe Valley
Xingyi is located in the southwest of Guizhou province. The elevation of the area varies between 759-1588 meters. The landform types are karst peak-forest, basin, and depression, which is a typical karst landform area. The climate belongs to the subtropical monsoon humid climate, and the forest vegetation is dominated by karst vegetation, with a forest coverage rate of 87.9%. There are over 100 species of orchids, including eight species of Dendrobium and five species of Paphiopedilum, and other orchids such as Coelogyne, Pholidota, Calanthe, Liparis, Cleisostoma, and Cymbidium, which is a treasure house of biological resources in the forest ecosystem of the southern subtropical region. Located in Xingyi city, southwest Guizhou province, Malinghe valley is 74.8 kilometers long, 50-100 meters wide, and 120-280 meters deep. The bottom of the valley is 200 meters below the ground. It is a typical karst rift valley. Many tributaries on both sides of the river lag behind the mainstream in cutting speed, forming hundreds of waterfalls more than 100 meters high into deep valleys. Malinghe valley is a concentrated expression of karst multi-level geomorphologic landscape. It is famous for its crevices, waterfalls, and calcium carbonate wall hanging. At the same time, many rare plants are growing in the valley with dense vegetation. As a result, the Malinghe valley is known as "the most beautiful scar on earth".
Dashiwei Tiankeng Group
Located in Leye county, northwest of Guangxi province, there are more than 20 Tiankeng in the karst mountains within a radius of fewer than 20 kilometers. There are 7 famous Tiankeng, including Dashiwei, Dengjiatuo, Chuandong, Shenmu, and Ladong, which contain the essence of Tiankeng in the world. The most representative one, Daishiwei Tiankeng, is 1,468 meters above sea level and 613 meters deep. It is 600 meters wide from east to west and 420 meters wide from north to south, with a volume of about 67 million cubic meters. The 'Tiankeng' means sinkhole and is known locally as Shiwei. The formation of sinkholes is due to the continuous erosion and transportation of underground groundwater in karst areas over a long period to rock layers, which gradually forms a huge underground cavity. When the earth's crust moves, the entire rock layer collapses vertically, forming a sinkhole.
Huanguoshu Waterfall
Huangguoshu waterfall is located in Zhenning Buyi and Miao autonomous county, Anshun city, Guizhou province, China. It is one of the largest waterfalls in China and East Asia. It is 77.8 m high and 101 m wide. The falls and the surrounding area form' Huangguoshu Waterfall National Park', which is rated by the Chinese Tourism board as 5A, the highest available grading for a scenic area. Huangguoshu Waterfall is famed for the greatness of its waterfall and the large waterfall group. The waterfall could be viewed from six different positions to get its magnificence, greatness, and elegance. Huangguoshu Waterfall is much more magnificent in summer when the rainy season comes. At this period from July to October every year, water flows become larger, and this is the best time to enjoy the beauty and spectacular of Huangguoshu Waterfall.
Tour Guides
We will arrange one of our best flower guides for this trip who has rich experiences of guiding tours in this region. You can also email us at info@wildfloratour.com to tailor make a tour of your own style or schedule a flower guide you prefer.
Besides, one of WildFloraTour's local guides in Southeast China will participate in this trip to ensure a high-end traveling experience.
Testimonials
As a new department set up in 2017 under AbsoluteWild Travel Co, Ltd., WildFloraTour consists of a group of English-speaking local plants and travel experts to provide the best quality trips for plant lovers to enjoy the beauty of the natural plant resources in China. In the past, we have organized many flower-watching trips with some cooperative travel agents under their company names. For this important page, we would quote some feedbacks made on TripAdvisor by travelers from our sister department AbsolutePanda. As a department of the same company, we share the same culture and principles.