Trip Details, Dates, Prices, etc.
Menu
15-Days of Plant Safari in Western China
Date:
Jun. & Jul., 2021, 2022
Trip Focus:
Classic Flower Tours
For real travelers, plant lovers, and photographers, western China is the most fascinating place where they can appreciate different ethnic cultures, see breath-taking scenery, and find the plants they have dreamed to see for a long time. Western China is blessed with vast territories, different climate zones, and abundant plant resources. From 1899 to 1911, the plant hunter Ernest Henry Wilson came to western China for 4 times, collected 65000 plant specimens, and introduced 1600 species of endemic plants into the gardens in Western countries. Thus he got a nickname the Chinese Wilson. This journey is designed to show you the beauty of plants in their original habitats, colorful ethnic culture, stunning scenery, and various landforms. We start our journey from Chengdu, the capital of Sichuan Province, and the biggest gateway city in western China. From here we head into Wolong National Nature Reserve which is one of the first nature reserves set up to protect giant pandas, their companion animals, and the rare and precious plants inside the panda habitat. The place is part of the Hengduan Mountains which is listed by Conservation International as one of 36 hot spots for biodiversity. After exploring plants in this big area including Balang Mountain and Mt. Siguniang. We take you to the edge of Qinghai-Tibet Plateau to look for plants and wildlife. In this area, we can also explore the tufa fairy ponds of Huanglong and see lots of slipper orchids (Cypripedium) and other orchids. Further westward, we will arrive at the Labuleng Monetary which is one of the 6 most important Gelugpa Monasteries of Tibetan Buddhism. After an in-depth cultural experience, we move on to the magnificent Qinghai Lake the largest inland and salt lake in China. After searching for the special plants in these habitats, we deepen into some remote solitary Gobi desert. The journey is made along an ancient trade path. Along this ancient charming path, we will explore fantastic wild flora, mammals, spectacular landscapes, colorful ethnic minorities, and surely various delicious local food for you.
Trip highlights:
1. Enjoy lots of stunning alpine flowers, and breath-taking views at Balang Mountain.

2. See lots of slipper orchids and other orchids in Huanglong Valley, as well as the amazing tufa ponds.

3. Travel through a corridor of ethnic minorities in western China.

4. Look for endemic plants found in different elevations and habitats.

5. Visit some famous Tibetan Buddhism monasteries to obtain an in-depth understanding of Tibetan culture.

6. Go into the remote Gobi Desert to explore plants and exotic landscapes.
Dates & Prices
| Dates | Booking Status | Price | Single Supplement | Group Size | Guide |
| --- | --- | --- | --- | --- | --- |
| Jun. 22 to Jul. 6, 2021 | Open to Booking | 3,600USD/pax | 460USD/pax | 12 | Local Guide |
| Jun. 22 to Jul. 6, 2022 | Open to Booking | 3,600USD/pax | 460USD/pax | 12 | Local Guide |
The cost includes the following:
1. Transportation throughout the trip.
2. Meals in local popular restaurants.
3. All the entrance tickets for places listed in the itinerary including cable cars and shuttle buses.
4. Hotel stays from the first day to the last day, nice 3-star hotels in big cities and local best in remote places.
5.Bottled water, and snacks throughout the trip.
6. Service charges of this trip include the fees of a professional English-speaking plant guide.
7. China domestic travel insurance.

The cost does not include the following:
1. Any expense of personal nature such as laundry.
2. During this trip, extra charges due to the change of itinerary from the client-side or other factors are beyond the control of WildFloraTour.
3. Flight tickets to the place where our trip starts and from the place where our trip ends.
4. Expenses for visa application.
5. Gratuities to the serving crew (guides and driver).
Itinerary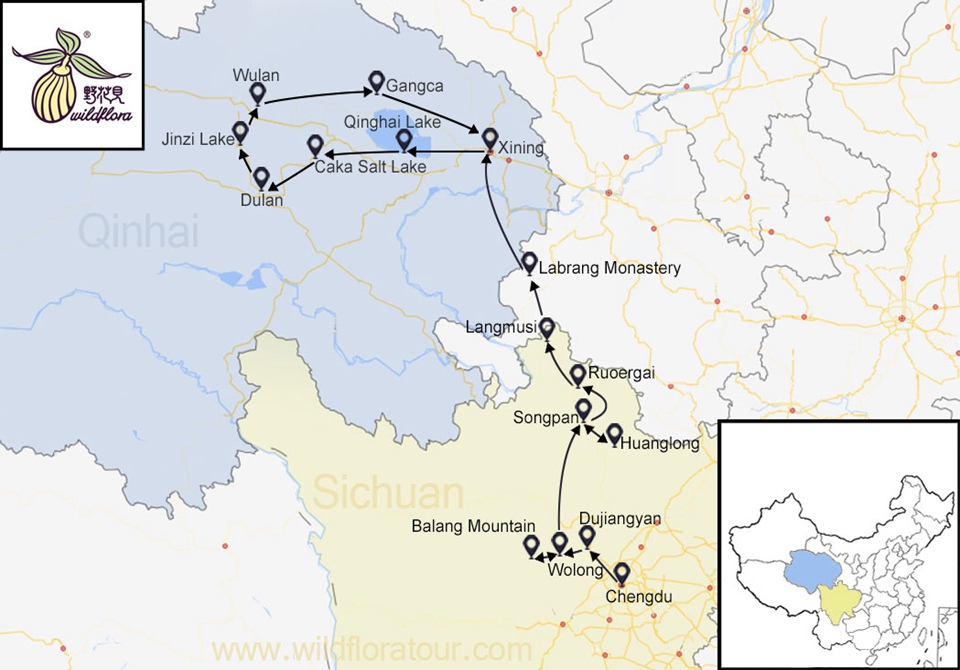 D1 Meet in Chengdu. Meals: D
Meet in Chengdu. Upon arrival, meet your guide and driver and transfer to your hotel. Welcome dinner at a local popular restaurant near your hotel.
Overnight: Minshan Anyi Hotel (Chengdu Chunxi Taikoo Li) (alt.500m) or similar

D2 Chengdu to Dujiangyan. Meals: BLD
We will have an optional city tour to Wangjiang Bamboo Park to see gardening plants and experience the laid-back lives of local people including unique tea houses, dances, exercises, and horticulture in this bamboo-themed park with about 146 species of bamboos. After that, we drive to Broad and Narrow Alleys via Tianfu Square where you can see the statue of Chairman Mao. In the afternoon we drive(1.5h) to Panda Valley to see the famous giant pandas and rich plant species inside the panda sanctuary.
Overnight: Panda Hotel (Dujiangyan Ancient City). (alt.800m) or similar

D3 Dujiangyan to Wolong. Meals: BLD
In the early morning, we drive from our hotel to Wolong National Nature Reserve, We will spend most of the day searching for wildflowers and enjoying the birds and amazing scenery around Wolong.
Overnight: Immersing Hotel (Wenchuan Wolong Shoumoren).(2000m) or similar

D4 Wolong to Balang Mountain. Meals: BLD
In the early morning, we drive you to Balang Mountain(4484m), experiencing a huge gap of elevation from dense forest to the alpine meadow and looking for plants grown at different elevations. We will be able to see some stunning alpine wildflowers such as Meconopsis punicea, Meconopsis integrifolia, Meconopsis lancifolia, Lilium lophophorum, Primula species, Cypripedium tibeticum, and birdlife and animal life. Late afternoon we drive back to Wolong Town.
Overnight: Immersing Hotel (Wenchuan Wolong Shoumoren). (2000m) or similar

D5 Wolong to Songpan. Meals: BLD
Leave Wolong and drive(7h) to Songpan via Minjiang river valley, searching for flowers along the valley.
Overnight: Ya Ri International Hotel. (2900m) or similar

D6 Songpan to Huanglong via Xueshanliang mountain pass. Meals: BLD
Drive from Songpan to Huanglong via Xueshanliang mountain pass(4000m), look for alpine plants in Xueshanliang pass, then we drive on to Huanglong, the world heritage site known for stunning tufa ponds, snow mountains, and forests.
Overnight: Huanglong Seercuozhai Hotel. (3000m) or similar

D7 Huanglong. Meals: BLD
We will spend the whole day exploring Huanglong for extraordinary scenery and alpine flowers, especially the orchid, such as Cypripedium, Calanthe, Calypso, and so on.
Overnight: Huanglong Seercuozhai Hotel or similar

D8 Huanglong to Langmusi. Meals: BLD
Leave Huanglong to Langmusi, we will pass through Xueshanliang again and drive through the vast Ruoergai wetland meadow for alpine flowers and wildlife such as Black-necked Crane, Himalayan marmot, Pika. Late afternoon we arrive at Langmusi.
Overnight: Langmusi Zhongyuan Inn or similar

D9 Langmusi to Xining via Labrang Monastery. Meals: BLD
Depart from Langmusi to Xining via Labrang Monastery. Today will be a long drive day, we will travel from the plateau to the northwest semi-arid region, drive along the upper reaches of the Yellow River to experience different scenery and search for different plants.
Overnight: Xining City

D10 Kumbum Monastery to Chaka Salt Lake via Qinghai Lake. Meals: BLD
In the morning we go to visit Kumbum Monastery, an important monastery of Tibetan Buddhism for Tibetan culture. Then we drive to Chaka Salt Lake via Qinghai Lake, searching for plants along the road.
Overnight: Chaka Town

D11 Chaka Lake to Jinzi Lake. Meals: BLD
Get up early in the morning and enjoy the magnificent scenery of Chaka Lake and explore saline-alkali tolerant plants on the surrounding land. Then we drive on to Jinzi Lake in the heart area of Gobi desert, look for desert plants along the way and enjoy the wild, vast side of West China.
Overnight: Wulan County

D12 Wulan County to Gangca County. Meals: BLD
Drive from Wulan County to Gangca County, look for salt-alkali tolerant plants along the way.
Overnight: Gangca County

D13 Gangca County to Xining City. Meals: BLD
Depart from Gangca County to Xining City, enjoy the scenery of Gobi desert and Qinghai lake, we will have Chance to see rare and endangered Przewakski's gazelle along the way.
Overnight: Xining City

D14 Xining City to Chengdu. Meals: BLD
City tour in Xining, afternoon fly back to Chengdu.
Overnight: Chengdu City

D15 Fly back to home. Meals: BL
Tour Guides
We will arrange one of our best flower guides for this trip who has rich experiences of guiding tours in this region. The following are some of our best local guides for your references.
Philip
A

s a half Kangba Tibetan, Philip is the founder of WildfloraTour and is native of Ganzi Tibetan Autonomous Prefecture. He has a deep love for his Kangba Tibetan heritage and the land where he was born and raised. Philip's career has gone from mining technician to teacher, to translator, and finally to a guide and tour operator. Along the way, Philip discovered his passion and love for helping tourists understand the beauty and history of his people and homeland. Philip is known for his ability to plan and execute unique and exciting adventure trips exploring the sights off the usual tourist routes. He is active, open-minded, and adventurous and always ready to share interesting and useful information with his clients. As a travel professional working in this field for more than 15 years, Philip believes travel is an art and a process of learning and discovery. Each trip is a unique artistic work created with knowledge and expertise based on the resources available and the interests and tastes of travelers. To help more people to understand the unique resources in panda habitats and neighboring areas, he established Wildflora to bring his educational fun-filled tours to more people eager to explore and learn about China. Besides, Philip is an active and knowledgeable birder and a dedicated photographer.




Besides, one of WildFloraTour's local guide in Southeast China will participate in this trip to ensure a high-end traveling experience.
Testimonials
As a new department set up in 2017 under AbsoluteWild Travel Co, Ltd., WildFloraTour consists of a group of English-speaking local plants and travel experts to provide the best quality trips for plant lovers to enjoy the beauty of the natural plant resources in China. In the past, we have organized many flower-watching trips with some cooperative travel agents under their company names. For this important page, we would quote some feedbacks made on TripAdvisor by travelers from our sister department AbsolutePanda. As a department of the same company, we share the same culture and principles.