Trip Details, Dates, Prices, etc.
Menu
4-Days Trip for Flowers and Wildlife in Chengdu and Northern Sichuan
Date:
From March to April
Famed as one of the top popular tourist destinations in the whole of China, Chengdu has a lot to offer for stylish travelers to meet their interests with a great variety of delicious foods, abundant historical sites, numerous museums, friendly people, iconic pandas, and beautiful parks, etc. Serving as the capital city of Sichuan province, Chengdu has a recorded history of over 2000 years and is located in the hinterland of southwest China, that provides great convenience for travelers to fly in or fly out and explore the kingdom of plants in the mountainous regions around Chengdu or enjoy colorful city life. The monsoon-influenced humid subtropical climate here and fertile soil in Sichuan Basin has contributed tremendously to the abundance of plant species and made it one of the best places to live in China. For plant lovers, Chengdu is an ideal place to start a journey for plants. To the west of the city is the Hengduan Mountains which has been listed by Conservation International as one of 36 hotspots for biodiversity globally. To the south is the World Natural and Cultural Heritage site Emei Mountain which boasts of over 5000 plant species. To the north are the Qingling Mountains and northern part of the Minshan Mountains which is home to the largest number of wild pandas. Inside the city, you can find China endemic plants like Ginko, Dawn Redwood, and Phoebes. The huge elevation gap of almost 5000 meters starting from the lowest point of 379 meters on Chengdu Plain to the highest point of 5,353 meters of the Daxuetang Peak has created various habitats for the existence of rich biodiversity. On this trip, we will take you to see the symbol of Chengdu- the giant panda, then we drive to the mountains and valleys in northern Sichuan to explore unique plants and wildlife in panda habitats.

Trip highlights

:
1. Come face to face with giant pandas of different age groups at Chengdu Panda Base.
2. Enjoy a large number of Magnolia trees full of big pink flowers in the mountains.
3. Encounter wild mammals and look for rare plants in Tangjiahe Nature Reserve, which is one of the best places to watch wildlife in China.
Dates & Prices
| Dates | Booking Status | Price | Single Supplement | Group Size | Guide |
| --- | --- | --- | --- | --- | --- |
| From March to April | Open to Booking | 1,100USD/pax | 90USD/pax | 8 | Local Guide |
The cost includes the following:
1. Transportation throughout the trip.
2. Meals in local popular restaurants are labeled as BLD in the itinerary.
3. All the entrance tickets for places listed in the itinerary including cable cars and shuttle buses.
4. Hotel stays from the first day to the last day, nice 3-star hotels in big cities and local best in local places.
5.Bottled water, and snacks throughout the trip.
6. Service charges of this trip include the fees of a professional English-speaking plant guide.
7. China domestic travel insurance.
The cost does not include the following:
1. Any expense of personal nature such as laundry.
2. During this trip, extra charges due to the change of itinerary from the client-side or other factors are beyond the control of WildFloraTour.
3. Flight tickets to the place where our trip starts and from the place where our trip ends.
4. Expenses for visa application.
5. Gratuities to the guide and driver.
Itinerary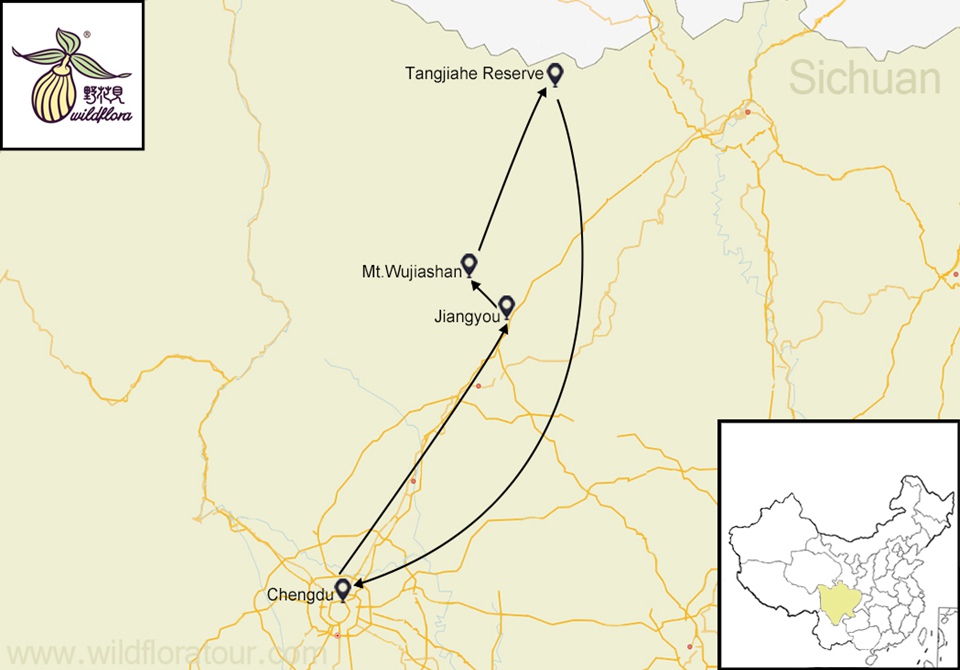 D1 Chengdu to Wujiashan Mountain. Meals: LD
In the morning meet your guide and drive to visit Chengdu Panda Base, after lunch, we drive 3h to Wujiashan Mountain.
Overnight: Guesthouse in Wujiashan Mountain or similar

D2 Wujiashan Mountain to Tangjiahe Nature Reserve. Meals: BLD
Enjoy a large number of Magnolia trees in full bloom in Wujiashan Mountain, after lunch, we drive 3.5h to Tangjiahe Nature Reserve.
Overnight: Tangjiahe Grand Hotel or similar

D3 Explore Tangjiahe Nature Reserve. Meals: BLD
Explore Tangjiahe Reserve, spend the whole day to look for flowers and animals.
Overnight: Tangjiahe Grand Hotel or similar

D4 Back to Chengdu. Meals: BL
Visit Qingxi Ancient Town in the morning and return to Chengdu in the afternoon (5.5h).

Introduction to Trip Destinations:
Chengdu Research Base of Giant Panda Breeding
Holding the distinction of the world's largest panda base, Chengdu Research Base of Giant Panda Breeding attracts tourists and wildlife enthusiasts alike from around the world. It is also a huge facility where you can see a good number of local and introduced plant species and many bird species. Conveniently located a short drive away from the center of the city, this state of the art research facility comfortably houses many giant pandas and red pandas. During your visit, you will see pandas ranging from young cubs to lumbering adults as well as the elusive and adorable red panda. In the garden-like atmosphere of the panda base, we will show you numerous cultivated plants from local and abroad and beautiful bird species.
Wujiashan Mountain
Wujiashan Mountain is located in Jiangyou county, Mianyang city, northern Sichuan, covering an area of 25 square kilometers. The height of this mountain varies from 1200m to 2179 m. Because most of the people who live here have the surname Wu, so people call it Wujiashan. The most attractive thing in Wujiashan is the magnolia tree(

Magnolia sprengeri

). This kind of magnolia tree has big pink flowers hanging on the branches without leaves when it begins to bloom. There are more than 60,000 magnolia trees, covering an area of more than 466 hectares. Some of the trees are more than 30 meters high. And the oldest trees are more than 300 years old. Whenever the flowers bloom, the mountains will become a sea of tree flowers, when you place yourself in the sea of tree flowers, you feel what is a paradise on earth.
Tangjiahe Nature Reserve
Tangjiahe Nature Reserve is a famous panda habitat located at the Minshan Mountains and it has more than pandas. In the depth of those rugged mountains, we can have a good chance to see a great variety of mammals, elusive endemic birds, and some rare plants. Though it is not easy to spot a giant panda in the wild, the rewards from paying a visit to this panda habitat are extremely high. Under the umbrella protection of Giant Panda, numerous companion animals of Giant Panda can be found here such as Asiatic Black Bear, Golden Snub-nosed Monkey, Golden Pheasant, Chinese Goral, Sichuan Takin, Chinese Serow, Reeve's Muntjac, Tufted Deer, Hog Badger, Yellow-throated Martin, Tibetan Macaque, Eurasian Otter, Siberian Chipmunk, Wild Boar, Red Panda, Temminck's Tragopan, and Leopard Cat also get lots of benefits. Tangjiahe is not only the paradise for wildlife, but also some endemic and rare plants, such as

Davidia involucrata,

Pleione bulbocodioides,

Changnienia amoena,

Rhododendron hunnewellianum,

Primula moupinensis,

Cercis glabra.
Tour Guides
We will arrange one of our best flower guides for this trip who has rich experiences of guiding tours in this region. You can also email us at info@wildfloratour.com to tailor make a tour of your own style or schedule a flower guide you prefer.
Testimonials
As a new department set up in 2017 under AbsoluteWild Travel Co, Ltd., WildFloraTour consists of a group of English-speaking local plants and travel experts to provide the best quality trips for plant lovers to enjoy the beauty of the natural plant resources in China. In the past, we have organized many flower-watching trips with some cooperative travel agents under their company names. For this important page, we would quote some feedbacks made on TripAdvisor by travelers from our sister department AbsolutePanda. As a department of the same company, we share the same culture and principles.