Trip Details, Dates, Prices, etc.
Menu
5-Days Botanical and Cultural Exploration in and Around Chengdu
Date:
From April to September
Famed as one of the top popular tourist destinations in the whole of China, Chengdu has a lot to offer for stylish travelers to meet their interests with a great variety of delicious foods, abundant historical sites, numerous museums, friendly people, iconic pandas, and beautiful parks, etc. Serving as the capital city of Sichuan province, Chengdu has a recorded history of over 2000 years and is located in the hinterland of southwest China, that provides great convenience for travelers to fly in or fly out and explore the kingdom of plants in the mountainous regions around Chengdu or enjoy colorful city life. The monsoon-influenced humid subtropical climate here and fertile soil in Sichuan Basin has contributed tremendously to the abundance of plant species and made it one of the best places to live in China. For plant lovers, Chengdu is an ideal place to start a journey for plants. To the west of the city is the Hengduan Mountains which has been listed by Conservation International as one of 36 hotspots for biodiversity globally. To the south is the World Natural and Cultural Heritage site Emei Mountain which boasts of over 5000 plant species. To the north are the Qingling Mountains and northern part of the Minshan Mountains which is home to the largest number of wild pandas. Inside the city, you can find China endemic plants like Ginko, Dawn Redwood, and Phoebes. The huge elevation gap of almost 5000 meters starting from the lowest point of 379 meters on Chengdu Plain to the highest point of 5,353 meters of the Daxuetang Peak has created various habitats for the existence of rich biodiversity. On this trip, we will show you the historical and cultural charms of Chengdu, before we drive you to two of the most spectacular places for plants and birds to enjoy an ultimate nature exploration there.
Dates & Prices
| Dates | Booking Status | Price | Single Supplement | Group Size | Guide |
| --- | --- | --- | --- | --- | --- |
| From April to September | Open to Booking | 1,400USD/pax | 130USD/pax | 8 | Local Guide |
The cost includes the following:
1. Transportation throughout the trip.
2. Meals in local popular restaurants.
3. All the entrance tickets for places listed in the itinerary including cable cars and shuttle buses.
4. Hotel stays from the first day to the last day, nice 3-star hotels in big cities and local best in local places.
5.Bottled water, and snacks throughout the trip.
6. Service charges of this trip include the fees of a professional English-speaking plant guide.
7. China domestic travel insurance.

The cost does not include the following:
1. Any expense of personal nature such as laundry.
2. During this trip, extra charges due to the change of itinerary from the client-side or other factors are beyond the control of WildFloraTour.
3. Flight tickets to the place where our trip starts and from the place where our trip ends.
4. Expenses for visa application.
5. Gratuities to the guide and driver.
Itinerary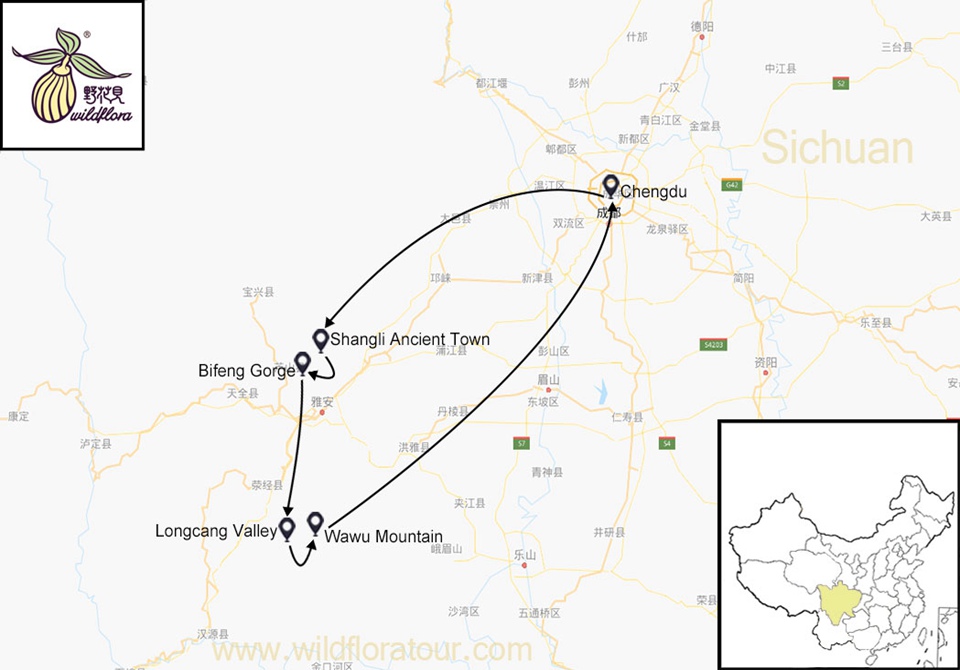 D1 Chengdu City. Meals: LD
Meet your guide in the morning and go to visit Chengdu People's Park, Kuanzhai Alley. After lunch, go to visit the Jinsha Site Museum.
Overnight: Minshan Anyi Hotel (Chengdu Chunxi Taikoo Li) or similar

D2 Chengdu to Ya'an. Meals: BLD
Drive 2h to Ya'an Shangli Ancient Town, walk along the streets to see local ancient architecture and lifestyle. After lunch, we drive to nearby Bifeng Gorge to look for rare plants. After that, we drive to Ya'an City.
Overnight: Yu Du Hotel or similar

D3 Ya'an to Longcang Valley to Ya'an. Meals: BLD
Drive from Ya'an to Longgang Valley, explore Longgang Valley the whole day to look for endemic and rare plants. After that, we return to Ya 'an.
Overnight: Yu Du Hotel or similar

D4 Ya'an to Wawu Mountain. Meals: BLD
Drive 2h from Ya'an to Wawu Mountain, take a cable car to the top of Wawu Mountain to see rhododendron and other plants, as well as the beautiful alpine scenery.
Overnight: Zhuoshan Hotel or similar

D5 Back to Chengdu, the trip ends. Meals: BL
Explore the Shuangdongxi Valley which is located in the foot of Wawu Mountain and return to Chengdu in the afternoon. Our trip ends.

Introduction to Trip Destinations:
Locang Valley
Longcang Valley is located in Yingjing county, Ya'an city, 2 hours drive from Chengdu. Longcang Valley is a national forest park, its terrain is high in the south, low in the north, close to the Wawu Mountain. The highest place in this park is 2949 meters above sea level and the lowest is 1460 meters above sea level. The climate is of subtropical humid monsoon climate with annual precipitation of over 2000mm. It is the rainy center of the whole Sichuan, with dense forests and numerous gullies. On both sides of the valley are tall trees, because of the rich rainfall, high air humidity, the tree trunks are covered with dense epiphytes, looking as if you are in a tropical rainforest. Here we hope to see Pleione bulbocodioides, Rhododendron strigillosum, Rhododendron calophytum, Davidia involucrata(Chinese Dove Tree), and many other rare beautiful plants.
Wawu Mountain
Located in the core area of the Rain Zone of West China, Wawu mountain is 2830m above sea level and is considered the highest and largest table mountain in China. The platform of the mountain top is about 11 square kilometers, the platform is surrounded by cliffs over one thousand meters. The whole mountain range is covered by a lush virgin forest. There are dense virgin coniferous forests on the top of the mountain, as well as over 30 species of Rhododendron. In 1908, British botanist Ernest Henry Wilson came to Wawu Mountain and made a brief survey of the plant species there. He was the first foreigner to visit Wawu Mountain.
Bifeng Gorge
The Bifeng Gorge is composed of two valleys. The left valley is 7km long and the right valley is 2.5 km in length. Viewed from above, the two gorges form a V-shape in the land. Vegetation and waterfalls are distinctive features of the Bifeng Gorge. Luxurious forest covers the gorge, peaks and cliffs diverge or almost meet high in the sky, allowing only a beam of sunlight to penetrate. The area also boasts diverse waterfall landscapes. The scenery enables visitors to feel at one with nature, relax, and be themselves.
Shangli Ancient Town
Shangli Ancient Town is a picturesque water town hidden in the depth of mountains in southwestern Sichuan. The layout of the small town is just like a huge Chinese water and ink painting with a lush mountain sitting behind and a clean stream winding its way through the town. and farmlands around Served as an important courier station on the ancient southern silk road and Tea and Horse Trade Route between Han Chinese and Tibetans, Shangli used to be an important stopover place for merchants. Now, this small town still preserves a good number of old houses and buildings dated back to the Ming and Qing dynasties. In 1982, it was named "famous town of history and culture" by the government of Sichuan province. On June 5, 2013, it was listed as a national AAAA tourist attraction in China. In January 2019, it was selected into the seventh batch of Chinese historical and cultural towns.
Jinsha Site Museum
Jinsha Site is an archaeological site in Chengdu, the capital of China's Sichuan Province. It was accidentally discovered in February 2001 during real estate construction. Located about 50 km away from Sanxingdui, the site flourished around 1000 BC and shares similarities in burial objects with the Sanxingdui site. Ivory, jade artifacts, bronze objects, gold objects, and carved stone objects were found at the site. Unlike the site at Sanxingdui, Jinsha did not have a city wall. Jinsha culture (1200–650 BC) was a final phase of Sanxingdui culture and represents a relocation of the political center in the ancient Shu Kingdom.
Notes:
●
Most of the places are easy and moderate, in some sites we need a few hours' walks, but it is OK for most people.
●
We will travel in moist and rainy mountains, so we need to take waterproof clothes and antiskid shoes.
Tour Guides
We will arrange one of our best flower guides for this trip who has rich experiences of guiding tours in this region. The following are some of our best local guides for your references.
Cory
Cory Li, co-founder, and general manager of WildFloraTour is a super fan of nature especially for flowers. His passion for nature grows from the beauty of greens in the little boys' eyes. As a native of Sichuan Chengdu, he has spent a lot of time exploring nature in the mountains nearby his hometown. During his study at Sichuan University, he began to take lots of outdoor activities like hiking and mountain climbing and started to study knowledge about flora by himself. After graduation, he even spent more time in the wild than office exploring wildflowers in Sichuan and nearby provinces with other nature lovers and photographed about two thousand wildflower species. He even found several new distributions of some endemic species and even some new species of plants along with some other nature lovers. He loves to share his findings and stories behind the photos with other nature lovers on the internet and became a "flora idol" in southwest China. He never expected becoming famous out of this, he just enjoys sharing the beauty of those lovely flowers with others.
Besides, one of WildfloraTour's local guide in Southeast China will participate in this trip to ensure a high-end traveling experience.
Testimonials
As a new department set up in 2017 under AbsoluteWild Travel Co, Ltd., WildFloraTour consists of a group of English-speaking local plants and travel experts to provide the best quality trips for plant lovers to enjoy the beauty of the natural plant resources in China. In the past, we have organized many flower-watching trips with some cooperative travel agents under their company names. For this important page, we would quote some feedbacks made on TripAdvisor by travelers from our sister department AbsolutePanda. As a department of the same company, we share the same culture and principles.