Trip Details, Dates, Prices, etc.
Menu
5-Days of Exploring Guangzhou City and Plants in Nearby Area
Guangzhou is the capital city of Guangdong Province located along the south coastline of China. Being an excellent port on the Pearl River navigable to the South China Sea, and with fast accessibility to Hong Kong and Macau, the city serves as the political, economic, scientific, educational, and cultural center in Guangdong area. Being the first cities benefited from the Reform and Opening Up policy since 1978, the city acts as the pioneer of the economic development of the country. The province boasts of being the production base of China with thousands of enterprises. A huge number of workers from different parts of China make the city a heavily populated area. Being the center for Cantonese cuisine Guangzhou is also considered as the paradise for gourmands in south China. Guangzhou has the south subtropical climate and abundant rainfalls, many plants can grow well in there. In this trip, we will not only show you the modern side of Guangzhou but also take you to the city botanical garden and lush mountains nearby to explore the plants there.
Dates & Prices
| Dates | Booking Status | Price | Single Supplement | Group Size | Guide |
| --- | --- | --- | --- | --- | --- |
| From March to May | Open to Booking | 1,800USD/pax | 130USD/pax | 8 | Local Guide |
The cost includes the following:
1. Transportation throughout the trip.
2. Meals in local popular restaurants are labeled as BLD in the itinerary.
3. All the entrance tickets for places listed in the itinerary including cable cars and shuttle buses.
4. Hotel stays from the first day to the last day, nice 3-star hotels in big cities and local best in local places.
5.Bottled water, and snacks throughout the trip.
6. Service charges of this trip include the fees of a professional English-speaking plant guide.
7. China domestic travel insurance.
The cost does not include the following:
1. Any expense of personal nature such as laundry.
2. During this trip, extra charges due to the change of itinerary from the client-side or other factors are beyond the control of WildFloraTour.
3. Flight tickets to the place where our trip starts and from the place where our trip ends.
4. Expenses for visa application.
5. Gratuities to the guide and driver.
Itinerary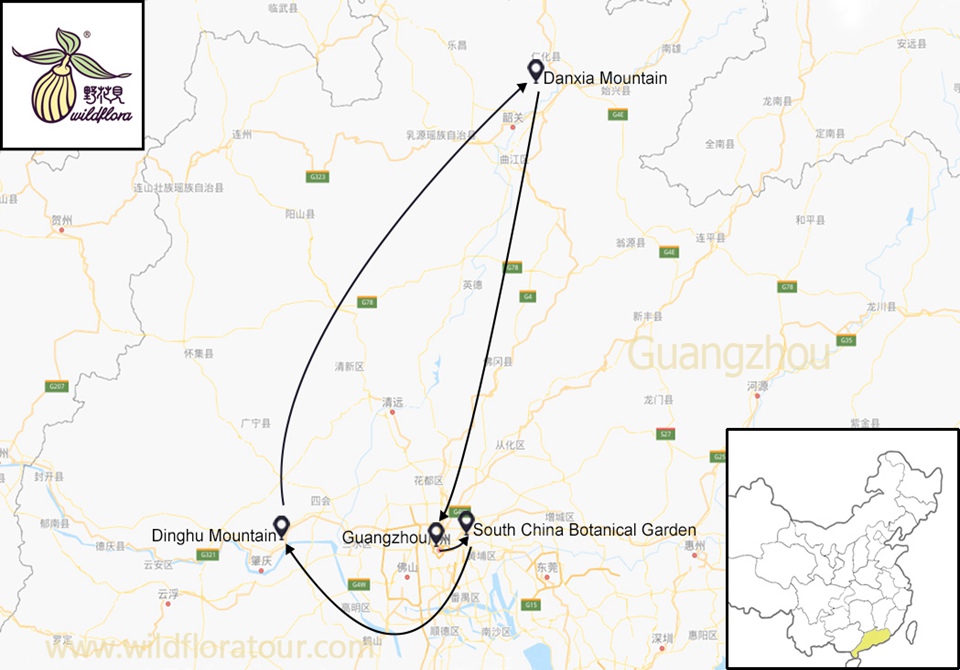 D1 Guangzhou city tour, visit Shamian Island, visit Shangxiajiu pedestrian street. Meals: LD
Overnight: Vienna Hotel (Guangzhou South China Botanical Garden) or similar

D2 Visit South China Botanical Garden in the morning and drive to Dinghu Mountain Nature Reserve in the afternoon. Meals: BLD
Overnight: Weihang Hotel or similar

D3 Explore Dinghu Mountain Nature Reserve for plants, afternoon drive(3.5h) to Danxia Mountain. Meals: BLD
Overnight: High Victory Hote or similar

D4 Explore plants and geography in Danxia Mountain. Meals: BLD
Overnight: High Victory Hotel or similar

D5 Return to Guangzhou,our trip ends. Meals: B

Introduction to Trip Destinations:
Shamian Island
Shamian is a sandbank island in the Liwan District of Guangzhou. The island's name means "sandy surface" in Chinese. During the Song, Yuan, Ming, and Qing dynasties, Shamian was an important place for domestic and foreign trade and tourism in China. After the opium war, in the Qing xianfeng 11 years (1861) it became the British, French's concession. Shamian is an important commercial port of Guangzhou. Shamian witnessed the change of the modern history of Guangzhou and has become the epitome of modern history and the concession history of China. Shamian Island ranks as one of the best tourist attractions in Guangzhou and is a treat for fans of architecture and history alike. Tree-lined quiet pedestrian-only roads make for a wonderful place to visit for a stroll.
Shangxiajiu pedestrian street
Shangxiajiu pedestrian street is located in the liwan district (commonly known as Xiguan) in Guangzhou city, between Shangjiu road, Xiajiu road, and Xifu road. In the long history, it has gradually formed the four styles of Tiguan which are the combination of Chinese and western commercial pedestrian streets, and constructed a unique and colorful Xiguan style painting, creating a beautiful tourist landscape. It gathers the food culture and the folk customs of Lingnan.
Dinghu mountain
Dinghu mountain is the first of the four famous mountains in Lingnan. In 1956, Dinghu mountain became the first nature reserve in China. In1979, Dinghu Mountain Nature Reserve has been approved to join the network of biosphere reserves under UNESCO's human and biological (MAB) program. Dinghu mountain covers an area of 1133 hectares, and the highest peak is 1000 meters. From the foothills to the top of the mountain, gully rainforest, evergreen broadleaf forest, subtropical monsoon evergreen broad-leaved forest, and other forest types are successively distributed. The typical zonal evergreen broad-leaved forest in the well-preserved south subtropical forest is a primeval forest with a history of more than 400 years. There are 1,843 kinds of wild higher plants and 534 kinds of cultivated plants, among which 23 are rare and endangered under state key protection. There are 30 species of plants named after Dinghu mountain. Dinghu Mountain is famous for its special research value and has been regarded as the "gene repository" and "living natural museum" of south China.
The South China Botanical Garden of the Chinese Academy of Sciences
The South China Botanical Garden of the Chinese Academy of Sciences is located in downtown Guangzhou. As one of the top botany research institutions in China, SCBG has obtained abundant research achievements in the fields of ecology, systematic and evolutionary botany, plant resources, biotechnology, as well as landscape and gardening. There are 30 special nursery gardens, such as magnolia family garden, ginger family garden, bamboo garden, orchid garden, palm garden, and cycad garden, and over 13,000 kinds of plants are preserved, among which 6,100 are tropical and subtropical plants, 5,300 are economic plants, and 430 are endangered wild plants under state protection.
Mount Danxia
Mount Danxia is a noted scenic mountainous area in Renhua County, in the northern part of Guangdong province. It is described on the local signage as a "world-famous UNESCO Geopark of China". The Danxia area is formed from reddish sandstone which has been eroded over time into a series of outcrops surrounded by spectacular cliffs and many unusual rock formations known as Danxia landform. There are several temples located on the mountains and many scenic walks can be undertaken. There is also a river winding through the mountains on which boat trips can be taken. The flora of Danxia Mountain is mainly composed of the tropical and subtropical flora. The special landscape and the humid monsoon climate permit the growth of evergreen broadleaf forests, endemic plants, endangered and new species such as Danxia Viola, Danxia orchid, Danxia Firmiana and Danxia Chiritopsis.
Tour Guides
We will arrange one of our best flower guides for this trip who has rich experiences of guiding tours in this region. The following are some of our best local guides for your references.
Cory Li
Cory Li, co-founder, and general manager of WildFloraTour is a super fan of nature, especially for flowers. His passion for nature grows from the beauty of greens in the little boys' eyes. As a native of Sichuan Chengdu, he has spent a lot of time exploring nature in the mountains nearby his hometown. During his study at Sichuan University, he began to take lots of outdoor activities like hiking and mountain climbing and started to study knowledge about flora by himself. After graduation, he even spent more time in the wild than office exploring wildflowers in Sichuan and nearby provinces with other nature lovers and photographed about two thousand wildflower species. He even found several new distributions of some endemic species and even some new species of plants along with some other nature lovers. He loves to share his findings and stories behind the photos with other nature lovers on the internet and became a "flora idol" in southwest China. He never expected becoming famous out of this, he just enjoys sharing the beauty of those lovely flowers with others.
Testimonials
As a new department set up in 2017 under AbsoluteWild Travel Co, Ltd., WildFloraTour consists of a group of English-speaking local plants and travel experts to provide the best quality trips for plant lovers to enjoy the beauty of the natural plant resources in China. In the past, we have organized many flower-watching trips with some cooperative travel agents under their company names. For this important page, we would quote some feedbacks made on TripAdvisor by travelers from our sister department AbsolutePanda. As a department of the same company, we share the same culture and principles.