Trip Details, Dates, Prices, etc.
Menu
3 Days Botanical and Cultural Trip Around Beijing
Beijing is the modern capital and one of the ancient capitals of China with a history of more than 3000 years. There are quite many iconic sites with historical significance in Beijing like the Forbidden City, the Great Wall, and the Temple of Heaven. Beijing is not just a modern metropolis with glittering highrises. Aside from Beijing's modern appearance, a lot of plants endemic to the northern part of China are waiting for us to explore. There are numerous mountain ranges with temperate forests surrounding downtown Beijing in the north, west, and southwest. Within 1 to 2 hours' drive, we can get into a tranquil valley away from busy city streets. Here we can find some precious extraordinary wild flora bloom quietly in early spring, such as Clematis acerifolia, Oresitrophe rupifraga,Corydalis fangshanensis and Pulsatilla chinensis. In late May and June, we can go to the high mountains around Beijing to see many alpine plants such as Cypripedium macranthos, Cypripedium guttatum, Primula maximowiczii, Scabiosa comosa, Trollius chinensis. We will not only have a taste of the unique history and culture of oriental China but also bring you to valleys and high mountains around to discover the untamed Beijing.
Trip highlights:
1. Visit the Forbidden City which served as the home of Chinese emperors and their households and was the ceremonial and political center of the Chinese. government for almost 500 years.

2. Visit the Summer Palace, where we can know the ancient Chinese imperial garden art.

3. Visit Beijing botanical garden to see many exotic plants.

4. Explore wild China for alpine plants such as Cypripedium, Primula, at Baihua Mountain.
Dates & Prices
| Dates | Booking State | Price | Single Supplement | Group Size | Guide |
| --- | --- | --- | --- | --- | --- |
| From April to June | Open to Booking | 1,260USD/pax | 145USD/pax | 8 | Local Guide |
The cost includes the following:
1. Transportation throughout the trip.
2. Meals in local popular restaurants labeled as BLD in the itinerary.
3. All the entrance tickets for places listed in the itinerary including cable cars and shuttle buses.
4. Hotel stays from the first day to the last day, nice 3-star hotels in big cities and local best in local places.
5.Bottled water, and snacks throughout the trip.
6. Service charges of this trip include the fees of a professional English-speaking plant guide.
7. China domestic travel insurance.
The cost does not include the following:
1. Any expense of personal nature such as laundry.
2. During this trip, extra charges due to the change of itinerary from the client-side or other factors are beyond the control of WildFloraTour.
3. Flight tickets to the place where our trip starts and from the place where our trip ends.
4. Expenses for visa application.
5. Gratuities to the guide and driver.
Itinerary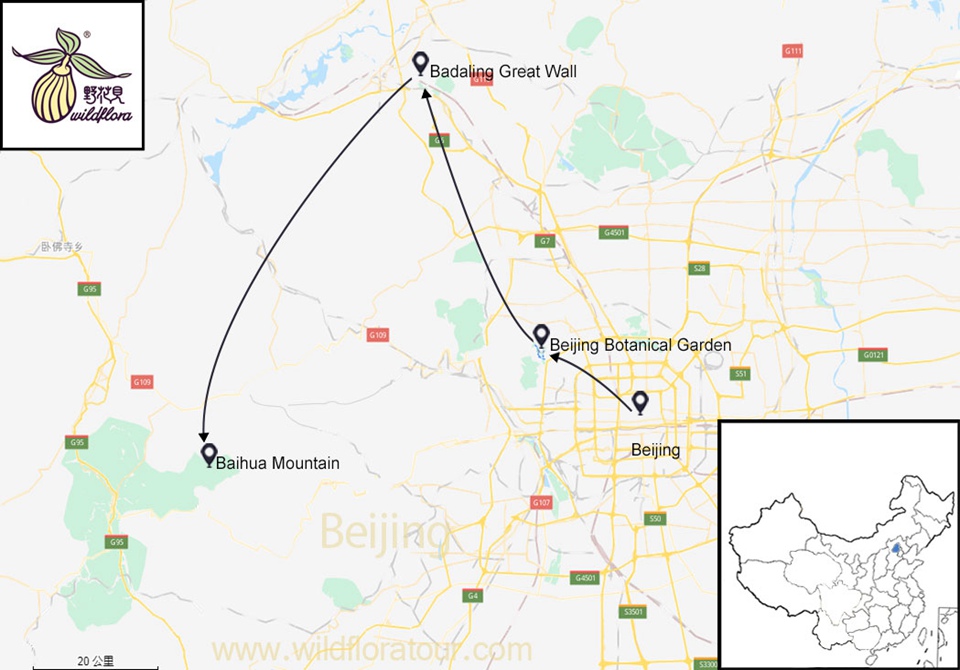 D1 Beijing city. Meals: LD
Meet your guide and then visit Forbidden City, Temple of Heaven. Afternoon we will visit the Summer Palace.
Overnight: Beijing Four Seasons Royal Garden or similar

D2 Beijing botanical garden-Badaling Great Wall-Baihua Mountain. Meals: BLD
We will visit Beijing botanical garden in the morning, after lunch we drive to Badaling Great Wall. We take 2 hours to walk along the Great Wall, then we drive to Baihua Mountain.
Overnight: Near Baihuashan, Songyuan Xiaozhu Hotel or similar

D3 Back to Beijing city. Meals: BL
Explore alpine flowers on Baihua Mountain, enjoy the beautiful scenery there. Later afternoon we drive back to Beijing city.

Introduction to Trip Destinations:
Forbidden City
The forbidden city became a world cultural heritage site since 1987, it is also known as the Palace Museum. With more than 8700 rooms, the gigantic place lies at the heart of Beijing city and once served as the imperial palace for 24 emperors during the Ming and Qing Dynasties (1368 - 1911). It was first built throughout 14 years during the reign of Emperor Chengzu in the Ming Dynasty (1368-1644). It was forbidden to enter without special permission of the emperor. Hence its name 'The Purple Forbidden City', usually 'The Forbidden City'. Outside the Forbidden City in the north of Tiananmen Square which is the world's largest square.
Summer Palace
The Summer Palace is a vast ensemble of lakes, gardens, and palaces in Beijing. It was an imperial garden in the Qing dynasty. Mainly dominated by Longevity Hill and Kunming Lake. In December 1998, UNESCO included the Summer Palace on its World Heritage List. It declared the Summer Palace "a masterpiece of Chinese landscape garden design. The natural landscape of hills and open water is combined with artificial features such as pavilions, halls, palaces, temples, and bridges to form a harmonious ensemble of outstanding aesthetic value".
Badaling Great Wall
Badaling is the most representative part of the Great Wall of China, as well as the most visited section. It is located in Yanqing County, over 70 kilometers (43 miles) the northwestern suburbs of Beijing city. The Great Wall is a symbol of ancient Chinese civilization and a world-renowned fortification. Stretching 6,350 kilometers on the mountains in Northern China, the Great Wall was first built in the 7th century B.C. and completed during the reign of the First Emperor of Qin. It was extended during the Ming Dynasty. Being one of the "seven wonders of the world", it has been listed as a world cultural heritage.
Baihua Mountain
The Baihua Mountain, also written as Baihuashan, is a national nature reserve located in the west of Beijing. In January 2008, the state council of China approved the promotion of the Baihuashan nature reserve as a national nature reserve. Known as north China's "natural botanical garden", Baihua Mountain is the largest nature reserves of higher plants and rare wild animals in Beijing. There are over 1100 species of higher plants in the Baihuashan nature reserve. Among them, there are 5 kinds of endemic plants. There are also 17 species of orchids, such as Dactylorhiza Viridis, Corallorhiza trifida, Cypripedium guttatum, Cypripedium macranthos, Epipactis helleborine.
Notes:
●
The best time to travel in Beijing and around places in the spring and early summer(April-June). April is the best time for plants in low altitude area and June is the best time for alpine plants in high mountains.
●
The trip is mostly moderate, we don't do many hikes, only in Baihua Mountain we need to have a little walk when we search for wildflowers.
Tour Guides
We will arrange one of our best flower guides for this trip who has rich experiences of guiding tours in this region. The following are some of our best local guides for your references.
Philip He
As a half Kangba Tibetan, Philip is the founder of Wildflora and is native of Ganzi Tibetan Autonomous Prefecture. He has a deep love of his Kangba Tibetan heritage and the land where he was born and raised. Philip's career has gone from mining technician, to teacher, to translator, and finally to a guide and tour operator. Along the way, Philip discovered his passion and love for helping tourists understand the beauty and history of his people and homeland. Philip is known for his ability to plan and execute unique and exciting adventure trips exploring the sights off the usual tourist routes. He is active, open-minded, and adventurous and always ready to share interesting and useful information with his clients. As a travel professional working in this field for more than 15 years, Philip believes travel is an art and a process of learning and discovery. Each trip is a unique artistic work created with knowledge and expertise based on the resources available and interests and tastes of travelers. To help more people to understand the unique resources in panda habitats and neighboring areas, he established Wildflora with aim to bring his educational fun -filled tours to more people eager to explore and learn about China. In addition, Philip is an active and knowledgeable birder, and a dedicated photographer.
Testimonials
As a new department set up in 2017 under AbsoluteWild Travel Co, Ltd., WildFloraTour consists of a group of English-speaking local plants and travel experts to provide the best quality trips for plant lovers to enjoy the beauty of the natural plant resources in China. In the past, we have organized many flower-watching trips with some cooperative travel agents under their company names. For this important page, we would quote some feedbacks made on TripAdvisor by travelers from our sister department AbsolutePanda. As a department of the same company, we share the same culture and principles.