Trip Details, Dates, Prices, etc.
Menu
4 Days Botanical and Cultural Trip Around Shanghai
Shanghai is the largest and most developed city in China. It is located on the southern estuary of the Yangtze, with the Huangpu River flowing through it. With a population of 24.2 million as of 2018, it is the most populous urban area in China and the second-most populous city proper in the world. Shanghai is a global center for finance, innovation, and transportation and the Port of Shanghai is the world's busiest container port. At the same time, behind the bustling city, there are also primitive and ancient China. There are dense subtropical forests, rich biodiversity, beautiful natural scenery, unique geological landforms, authentic traditional Chinese history, and culture. In this trip, we are going to explore these amazing places for the diversity of plants, natural scenery, and rich historical culture around Shanghai.
Trip Highlights:
1. Take a bird's-eye view of China's biggest city from the Oriental Pearl Tower, at 468 m (1,535 feet) high, which was the tallest structure in China from 1994–2007.

2. Have a walk along the Bund. Roam among the architectural complexes to have a better understanding of the century-long charm of this city.

3. Experience traditional Chinese gardening art in the Yu Garden and common popular gardening plants.

4. Explore the Tianmu Mountain to see well-protected evergreen forests and many big rare trees or wildflowers.
Dates & Prices
| Dates | Booking Status | Price | Single Supplement | Group Size | Guide |
| --- | --- | --- | --- | --- | --- |
| From April to May | Open to Booking | 1,500USD/pax | 160USD/pax | 8 | Local Guide |
The cost includes the following:
1. Transportation throughout the trip.
2. Meals in local popular restaurants labeled as BLD in the itinerary.
3. All the entrance tickets for places listed in the itinerary including cable cars and shuttle buses.
4. Hotel stays from the first day to the last day, nice 3-star hotels in big cities and local best in local places.
5.Bottled water, and snacks throughout the trip.
6. Service charges of this trip include the fees of a professional English-speaking plant guide.
7. China domestic travel insurance.
The cost does not include the following:
1. Any expense of personal nature such as laundry.
2. During this trip, extra charges due to the change of itinerary from the client-side or other factors are beyond the control of WildFloraTour.
3. Flight tickets to the place where our trip starts and from the place where our trip ends.
4. Expenses for visa application.
5. Gratuities to the guide and driver.
Itinerary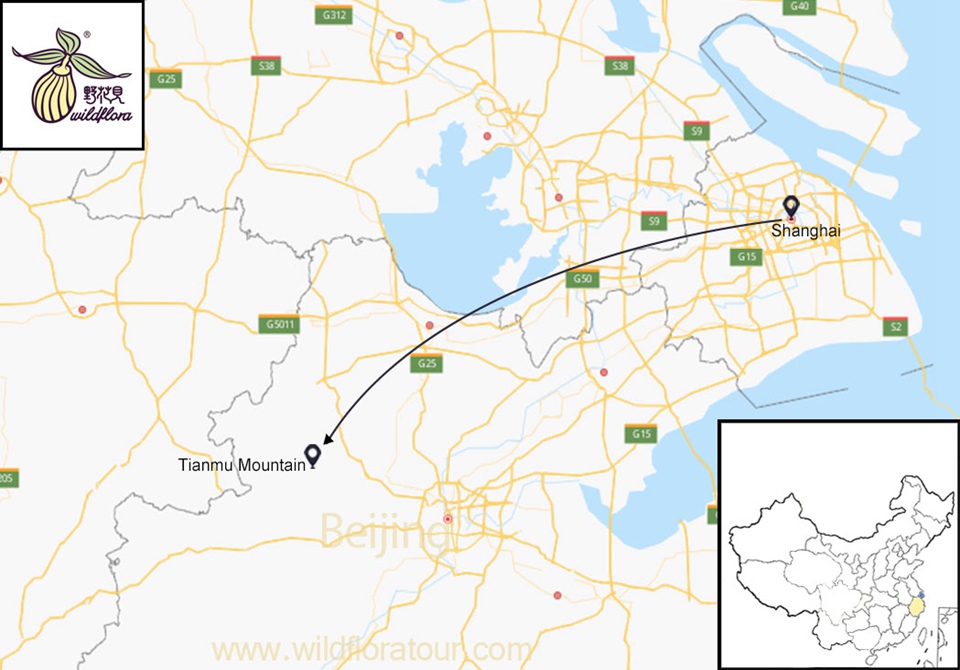 D1 Arrive in Shanghai. Meals: LD
Meet your guide in your hotel in the morning,then go to visit the Shanghai Bund and Oriental Pearl Tower. Afternoon we go to visit Yu Garden.
Overnight: Mercure Hotel (Shanghai Yu Garden) or similar

D2 Shanghai to Tianmu Mountain. Meals: BLD
In the morning, we are going to visit Shanghai Chenshan Botanical Garden. This Garden is one of the best botanical gardens in China, with many special plants from China and other countries. In the afternoon we drive to Tianmu Mountain.
Overnight: Tianmu Manor or similar

D3 Tianmu Mountain. Meals: BLD

We spend the whole day exploring Tianmu Mountain. Tianmu Mountain is one of the man and biosphere reserves established by UNESCO. There are many rare protected plants and beautiful natural scenery.
Overnight: Tianmu Manor or similar

D4 Drive back to Shanghai, trip ends. Meals: B
Introduction to Trip Destinations:
Shanghai Bund
For a century, the Bund has been one of the most recognizable symbols and the pride of Shanghai. The architecture along the Bund is a living museum of the colonial history of the 1800s. The Bund is a mile-long stretch of waterfront promenade along the Huangpu River. To the west of this stretch stand 52 buildings of various architectural styles, including Gothic, baroque, and neoclassical styles. It is often referred to as "the museum of buildings".

Oriental Pearl Tower
Shanghai Oriental Pearl Tower is located in Pudong Park in Lujiazui, Pudong New Area, Shanghai. Surrounded by the Yangpu Bridge in the northeast and the Nanpu Bridge in the southwest, it creates a picture of 'twin dragons playing with pearls'. The entire scene is a photographic jewel that excites the imagination and attracts thousands of visitors year-round. This 468 meters (1,536 feet) high tower is the world's sixth and China's second tallest TV and radio tower. However, even more, alluring than its height is the unique architectural design that makes Oriental Pearl Tower one of the most attractive places anywhere.
Chenshan Botanical Garden
Chenshan Botanical Gardens covers a whopping 200 hectares (2 million square meters), with over 9,000 species of plants. It's easily making it Shanghai's largest garden. It integrates scientific research, landscaping, and leisure into a harmonious design. Visitors can enjoy plants all year round. Even in winter, the park's big greenhouses showcase a vibrant and lush scene. Sites worth noting include the Quarry Garden, park's two lakes, and several small islands. Through the ecological restoration, the Quarry Garden's deep pool, pits, platforms, and walls were transformed into the beautiful garden one sees today.
Yu Garden
Yu Garden is a classical garden ranking among the must-see attractions in Huangpu District, Shanghai. It dates back to the Ming Dynasty (1368-1644) and was owned by a government officer named Pan Yunduan. Yu in Chinese means pleasing and satisfying, and this garden was specially built for Pan's parents as a place for them to enjoy a tranquil and happy time in their old age. Yu Garden is small in size, but it contains all elements that a classical Chinese garden should have. The pavilions, halls, rockeries, ponds, and cloisters all have unique characteristics.
Tianmu Mountain
Tianmu Mountain is a mountain in Lin'an County 83.2 kilometers (51.7 mi) west of Hangzhou, Zhejiang, in eastern China. It is made up of two peaks: West Tianmu (1,506 meters or 4,941 feet) and East Tianmu (1,480 meters or 4,860 feet). It is a UNESCO Biosphere Reserve as part of UNESCO's Man and the Biosphere Program. The mountain has a lush subtropical climate. Tianmu is known for giant Japanese cedars, waterfalls, Tianmu tea, peaks surrounded by clouds, bamboo shoots, temples and nunneries, and odd-shaped rocks. More than 2,000 species of plants grow on the mountain, including (on West Tianmu) the last surviving truly wild population of Ginkgo trees. Prominent among the Japanese cedars is the "Giant Tree King", named by the Qianlong Emperor of the Qing. The mountain is also home to hundreds of species of birds and animals, including 39 endangered or protected species.
Notes:
●
The best time to travel in Shanghai and around places in the spring(April-May). The temperature is comfortable and many plants begin to flower.
●
The trip is mostly moderate, we don't do many hikes, only in Tianmu Mountain we need to have a little more walk.
Tour Guides
We will arrange one of our best flower guides for this trip who has rich experiences of guiding tours in this region. The following are some of our best local guides for your references.
Cory Li
Cory Li, co-founder, and general manager of WildFloraTour is a super fan of nature, especially for flowers. His passion for nature grows from the beauty of greens in the little boys' eyes. As a native of Sichuan Chengdu, he has spent a lot of time exploring nature in the mountains nearby his hometown. During his study at Sichuan University, he began to take lots of outdoor activities like hiking and mountain climbing and started to study knowledge about flora by himself. After graduation, he even spent more time in the wild than office exploring wildflowers in Sichuan and nearby provinces with other nature lovers and photographed about two thousand wildflower species. He even found several new distributions of some endemic species and even some new species of plants along with some other nature lovers. He loves to share his findings and stories behind the photos with other nature lovers on the internet and became a "flora idol" in southwest China. He never expected becoming famous out of this, he just enjoys sharing the beauty of those lovely flowers with others.
Testimonials
As a new department set up in 2017 under AbsoluteWild Travel Co, Ltd., WildFloraTour consists of a group of English-speaking local plants and travel experts to provide the best quality trips for plant lovers to enjoy the beauty of the natural plant resources in China. In the past, we have organized many flower-watching trips with some cooperative travel agents under their company names. For this important page, we would quote some feedbacks made on TripAdvisor by travelers from our sister department AbsolutePanda. As a department of the same company, we share the same culture and principles.